PRE-REFERRAL
PRE-REFERRAL INTERVENTION MANUAL
Third Edition
(PRIM-3)
by Stephen B. McCarney, Ed.D. &
Kathy Cummins Wunderlich, M.Ed.
edited by Samm N. House
Copyright © 2006
The Pre-Referral Intervention Manual (PRIM) provides a direct response to state mandated pre-referral intervention activities. It may be used by a teacher or group of educators, such as a Teacher Assistance Team, to develop a comprehensive plan of intervention strategies for a student.
The Pre-Referral Intervention Manual (570 pages, © 2006) should be included in each school's professional library and made available to principals, special educators, regular educators, and guidance counselors involved in pre-referral activities.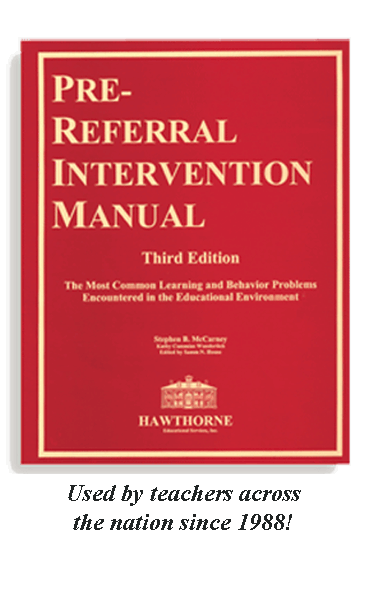 Characteristics of the PRIM
The PRIM answers the mandate for pre-referral intervention in regular education classrooms.


The PRIM contains over 4,000 intervention strategies for the 219 most common learning and behavior problems.


The intervention strategies are easily implemented in classrooms by regular education teachers.


The PRIM includes an appendix of materials for the implementation of the behavioral interventions.


The PRIM improves the teacher's ability to individualize instruction for students in the classroom.


The PRIM was developed by regular and special education teahers.


The PRIM is one of the most comprehensive learning and behavior intervention manuals available.
(PRIM-3 continued on next page.)